VOTE MARTH 17th for Bill Bathurst and Shirley Johnson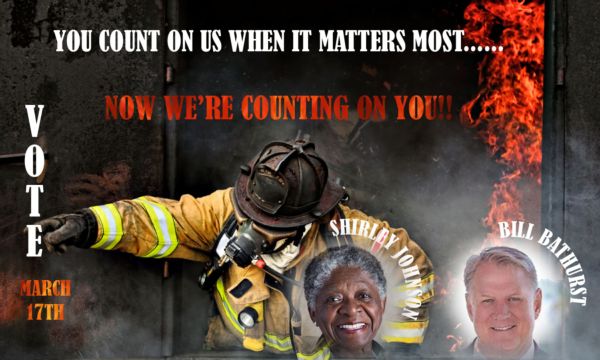 VOTE March 17th for Bill Bathurst and Shirley Johnson.
It is UPSETTING that our Fire Fighters and our Brothers and Sisters in Blue are being VILLIANIZED by candidates running for commission. Our union has only ever asked to be paid competitively to attract and retain fire fighters to keep the residents safe. That same union, that this mailer claims wants a "fatter pension" came to the city and negotiated pension reductions for our members to assist the city financially. The Union saved the city 45 million in the firefighters pension. To imply our Fire Fighters don't care or have an interest about the residents is insulting. Our Fire Fighters are always on the frontline of every pandemic, epidemic and traumatic event, keeping the residents and visitors of Delray Beach safe. This mailer further supports the reason why the Professional Fire Fighters of Delray Beach have endorsed both Bill Bathurst and Shirley Johnson for Re-Election on March 17th.
YOU COUNT ON US WHEN YOU NEED US MOST, NOW WE ARE COUNTING ON YOU! VOTE BILL BATHURST AND SHIRLEY JOHNSON ON MARCH 17TH!